Cart (

0

)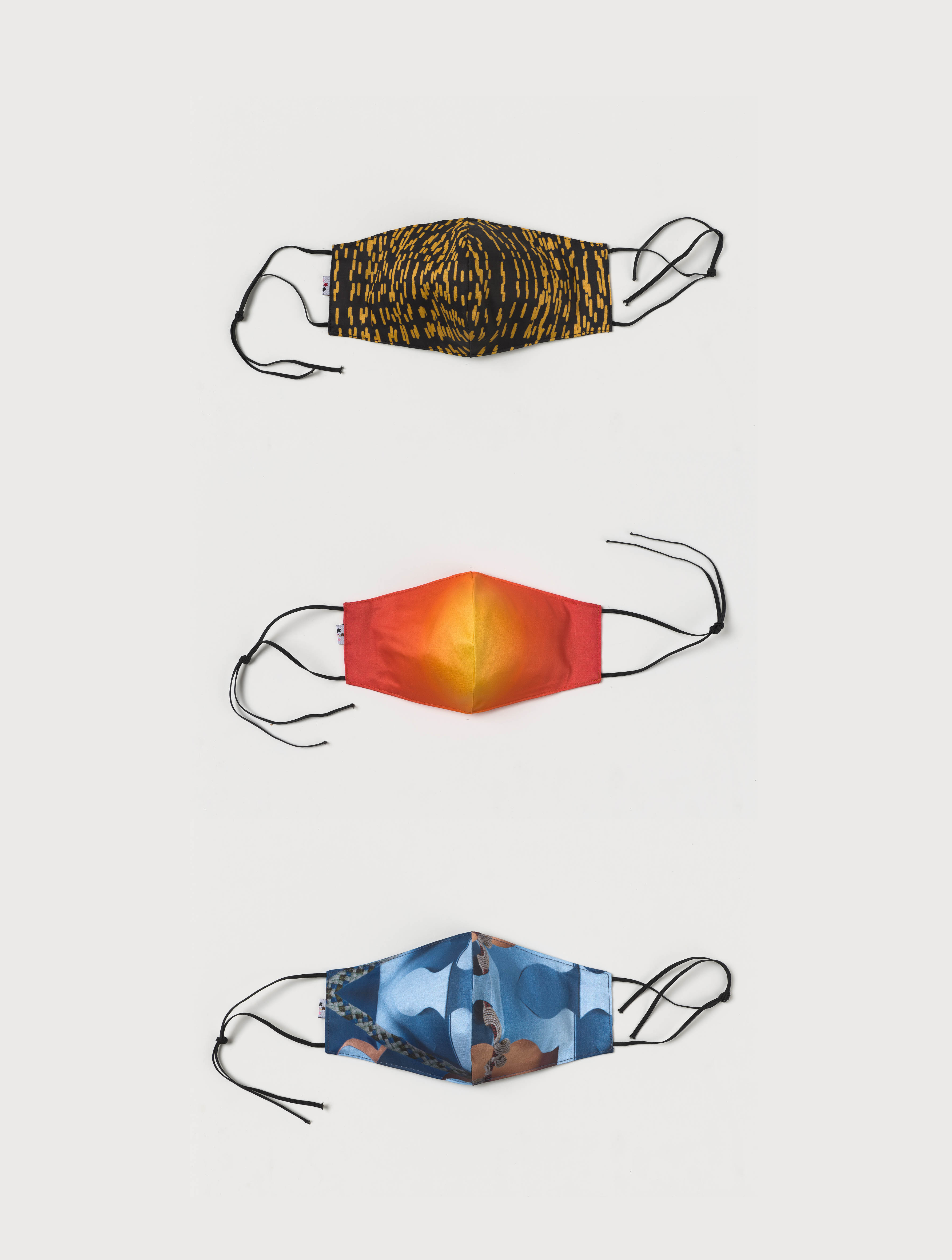 Aaron Christopher Rees, Alice Wormald, Dean Cross, Rudi Williams, and Shannon Lyons, Reusable mask (3 pack) (2020)
For sales please email info@busprojects.org.au


In collaboration with SisterWorks, Bus Projects has created a series of wearable art masks.
Five individual designs have been created by artists Aaron Christopher Rees, Alice Wormald, Dean Cross, Rudi Williams, and Shannon Lyons.
Produced by sisters with Sisterworks, each reusable mask is reversible, comfortable and breathable, with two layers of 100% cotton fabric to protect your skin, ear/head elastics can be adjusted by tying a knot in each end to achieve your preferred length. Comfortable design to fit any face. These face masks are not a medical device, but may serve as a protective barrier for various daily and occasional activities.
Please note our masks come in a standard sizes but may vary due to being handmade. Each mask design is unique with variation in pattern. Available in sizes Small and Large.
We have taken due care in the creation of these masks, but advise to please wash your mask before wearing.


When ordering please specify which 3 x designs you would like to purchase.


For sales please email info@busprojects.org.au
SisterWorks is a not-for-profit social enterprise, based in Melbourne. Through work and entrepreneurship, SisterWorks' mission is to support women who are refugees, asylum seekers or migrants so they can improve their confidence, mental wellbeing, sense of belonging and economic outlook. Their vision is an Australia where all migrant women are given the opportunities to become economically empowered.


Aaron Christopher Rees's practise has evolved through an interest in the ubiquitous nature of the camera and how it influences the manner in which reality is received, framed and experienced. Rees graduated from the VCA in 2015 with honours and has been the recipient of a number of prizes, amongst them the VCA Emerging Artist prize, The Blair Trethowan TCB Art Inc Award and the Orloff Family Charitable Trust award. Rees has exhibited internationally and interstate.


Alice Wormald makes paintings which develop alongside a process of image collection and collage. Using pictures from books, magazines and her own photographs, the works are conversations with and within the painted surface. They embody the idea of painting as a puzzle, each piece interacting by an unseen logic, overlapping and intersecting to create its own distinct rhythm.


Dean Cross was born and raised on Ngunnawal/Ngambri Country and is of Worimi descent. He is a trans-disciplinary artist primarily working across installation, sculpture and photography. His career began in contemporary dance, performing and choreographing nationally and internationally for over a decade with Australia's leading dance companies. Following that Dean re-trained as a visual artist, gaining his Bachelor's Degree from Sydney College of the Arts, and his First Class Honours from the ANU School of Art and Design.


Rudi Williams was born in Milan, Italy in 1993. Based in Melbourne, she completed a Bachelor of Fine Art, Honours at the Victorian College of the Arts in 2015. Previous solo exhibitions include: Echo (2016), Last Picture Show (2015), Amnesia (2014), Unfixed(2014). Her work has been exhibited in the following institutions: Centre for Contemporary Photography, Sutton Gallery, Monash Gallery of Art, The Substation and Tarrawarra Museum of Art.


Shannon Lyons is a multi-disciplinary artist who explores the complex relationships that exist between art and its context. Her works take the form of installations, sculptures, gestures and interventions that critically examine the sites where they are made or exhibited.