Cart (

0

)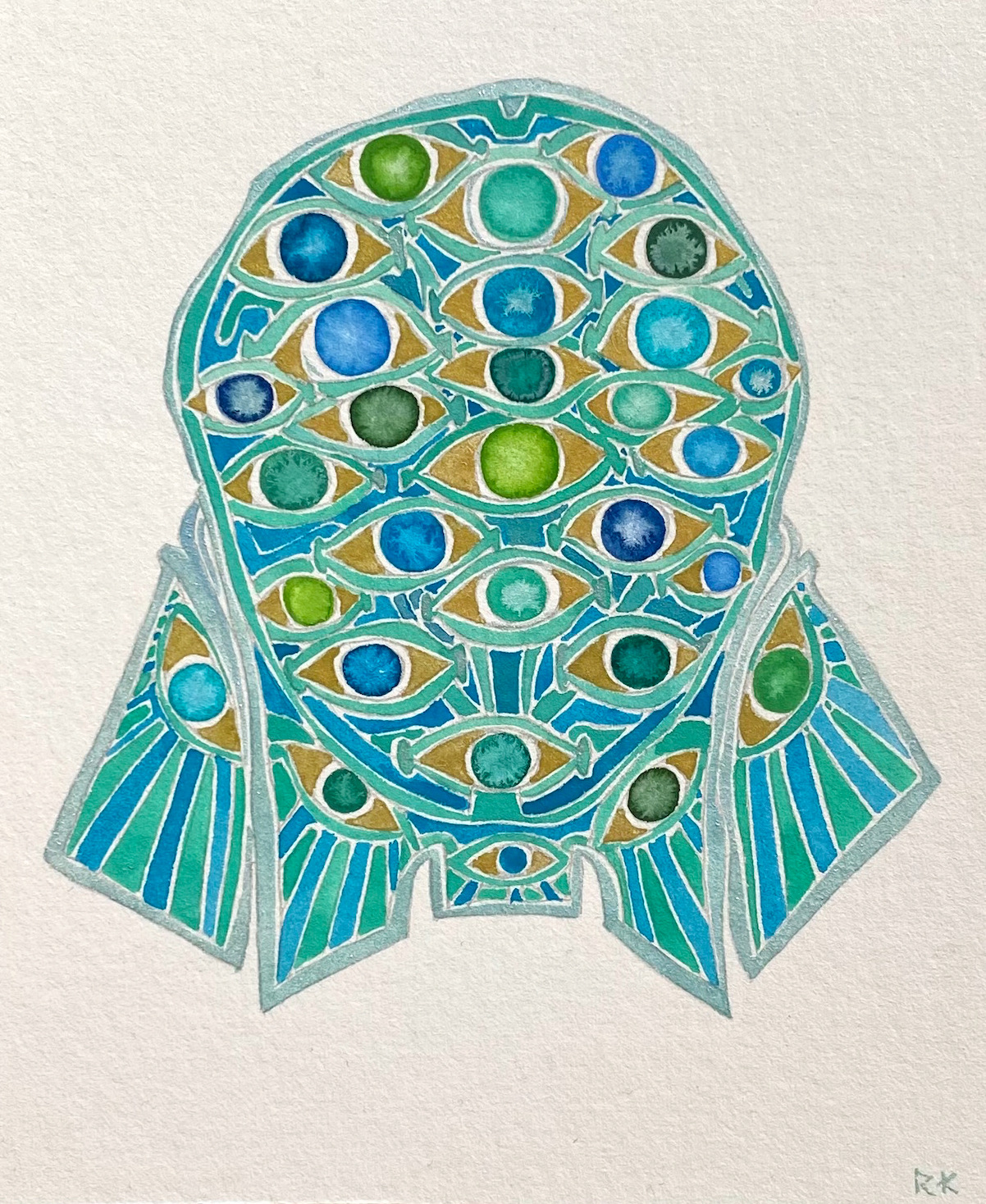 Kate Beynon and Rali Beynon, Many-Eyed Mask Spirit (from the 'Mask Spirits' series 2020-21 ongoing)
Watercolour and metallic pigment on cotton rag.
The collaborative Mask Spirits series began as a creative iso-project during one of Melbourne's lockdowns, continuing throughout 2021 including at Kate's Residency at Collingwood Yards with the Bank of Melbourne. The works feature Rali's distinctive and intricate pencil drawing, with watercolour and fine metallic details painted by Kate. Completed recently in Kate's Yards studio, the Many-Eyed Mask Spirit evokes a 29-eyed supernatural amphibious guardian creature.
Kate Beynon is a multidisciplinary artist working in painting, textile soft-sculpture, fashion, interactive spaces, public art, animated video installation and is the 2021 Bank of Melbourne Collingwood Yards Resident. Rali Beynon, Kate's son, is an emerging artist and animator completing a Bachelor in Design in Animation at RMIT. Kate has a BFA from VCA/University of Melbourne, PhD from MADA: Monash University and is an Associate Teacher at both institutions.
Kate and Rali's collaborative Mask Spirits series draws inspiration from their mixed cultural backgrounds and shared interests in storytelling, auspicious imagery and guardian figures. The wider Mask Spirits project will be exhibited at Sutton Gallery, Melbourne in 2022.
Based in Naarm/Melbourne, Kate and Rali acknowledge and pay respect to the people of the Kulin Nations and lands on which they live and work, and in solidarity pay respect to All First Nations People worldwide.
Kate is represented by Sutton Gallery, Melbourne and Milani Gallery, Brisbane.