Cart (

0

)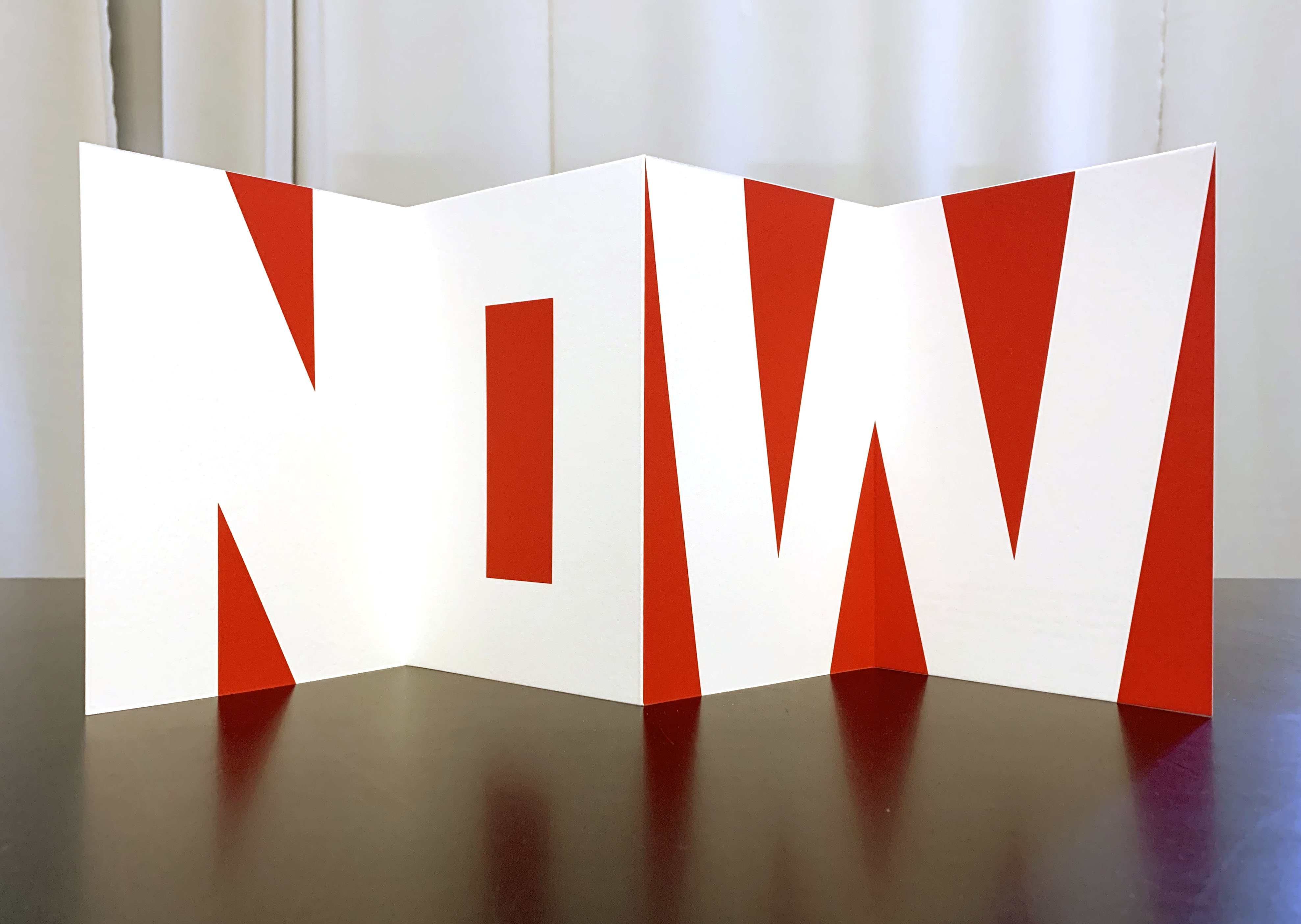 Rose Nolan, NOW (2020)
Artist book
Screenprint concertina book on BFK Rives 270 gsm
22 x 14 cm (closed)
Edition of 100


Rose Nolan has generously produced for Bus Projects a limited edition Screenprint concertina book. Printed in collaboration with Trent Walter at Negative Press.
Made as a special edition for Bus Projects 2020 Edition Program, Rose Nolan's 'NOW' uses the fold of pages to define letter forms, continuing Nolan's long engagement with artists' books.


Rose Nolan's prac­tice inves­ti­gates the for­mal and lin­guis­tic qual­i­ties of words and their rela­tion­ship to archi­tec­tur­al space. Adopt­ing the lan­guage of abstrac­tion and rev­o­lu­tion­ary aes­thet­ics, Nolan typ­i­cal­ly uses a reduced palette of red and white and sim­ple, inex­pen­sive, util­i­tar­i­an mate­ri­als to cre­ate ban­ners, posters, pam­phlets, paint­ings and large-scale instal­la­tions. Recall­ing the hero­ic and pro­pa­gan­dist tra­di­tions of con­struc­tivism and polit­i­cal pos­ter­ing, her ban­ners also make implic­it ref­er­ence to the ver­nac­u­lar antics and sub­jec­tive expres­sion of cheer squads, crowds and fans. The ban­ners work back – and-forth, truck­ing with his­to­ry and rev­el­ling in a sense of the moment, appeal­ing to pub­lic mem­o­ry while ​'fly­ing the flag for abstraction'.
Rose Nolan was a mem­ber of the group of artists who formed ​'Store 5', a loose exper­i­men­tal col­lec­tive and space based in Mel­bourne between 1989 and 1993.
Exhi­bi­tions include The Nation­al 2017; New Aus­tralian Art, Muse­um of Con­tem­po­rary Art, Syd­ney (2017); Let's Talk About Text, Art­bank, Syd­ney (2017); Fab­rik – con­cep­tu­al, min­i­mal­ist and per­for­ma­tive approach­es to tex­tiles, Ian Pot­ter Muse­um of Art, Mel­bourne (2016); Image Worth Read­ing, Key Projects, Long Island City, New York (2015); Tak­ing It All Away: MCA Col­lec­tion, Muse­um of Con­tem­po­rary Art, Syd­ney (2014); Mel­bourne Now, Nation­al Gallery of Vic­to­ria, Mel­bourne (2013); The Solo Projects, VCA Mar­garet Lawrence Gallery, Mel­bourne Inter­na­tion­al Arts Fes­ti­val (2011); Why Do We Do The Things We Do, Insti­tute of Mod­ern Art, Bris­bane (2008); Work in Progress #3, Ian Pot­ter Muse­um of Art, Mel­bourne (2002).
Rose Nolan is represented by Anna Schwartz Gallery.


Printed by Trent Walter, Negative Press.